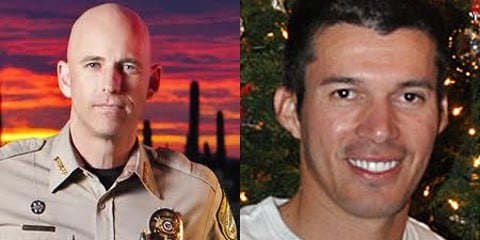 Pinal County, Arizona Sheriff Paul Babeu is now facing a lawsuit from his ex-boyfriend Jose Orozcoseeking $1 million in damages, The Republic reports:
The notice of claim, which attorneys for Jose Orozco filed with the sheriff and the county's Board of Supervisors, seeks $1 million in damages, according to County Manager Fritz Behring.  Additional details about the notice of claim were unavailable Monday night. Neither Orozco, nor Orozco's lawyer, Melissa Weiss-Riner, could be reached for comment. Babeu's lawyer also could not be reached.
Tim Gaffney, Sheriff's Office director of communications and grants, issued this statement in response to a request for comment: "A notice of claim was provided to our office earlier today regarding this matter. As with any pending civil litigation, it would be inappropriate to comment at this time."