A state hearing officer has upheld the 2010 firing of former Michigan assistant attorney general Andrew Shirvell for his disgusting anti-gay cyberbullying campaign against University of Michigan student body president Chris Armstrong, the AP reports: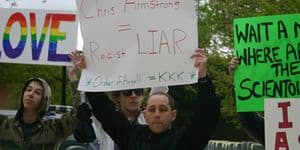 William Hutchens of the Michigan Civil Service Commission says Andrew Shirvell was justly dismissed. He says the attorney engaged in "hate speech" on a blog and "physical and mental harassment."
Shirvell was fired by then-Attorney General Mike Cox in November 2010. He appealed, saying his conduct toward Christopher Armstrong was protected by the First Amendment. But the hearing officer says Shirvell's actions put his office in a bad light and could have discouraged people from working there.