On March 7, the Christianist Alliance Defense Fund sent a proposed ballot initative to he Colorado Legislative Council that would protect the rights of religious organizations or individuals to discriminate based on their beliefs, the Denver Post reports: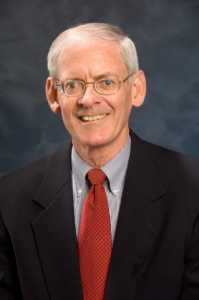 The draft language states that government may not directly or indirectly burden a person or organization by withholding benefits, assessing penalties or excluding a person or group from government programs or facilities.
…The amendment representative named is Tom Minnery (pictured), senior vice president of Focus on the Family.
Minnery…denies it's spurred by the national debate over religious freedom and conscience-based exemptions to national health care mandates, such as required coverage of birth control.
LGBT rights group One Colorado is alarmed:
Focus on the Family is attacking our families, filing a ballot initiative that would legalize discrimination against lesbian, gay, bisexual, and transgender Coloradans. If passed, this initiative would allow anyone with a religious conviction to deny employment, housing, or services to LGBT people.
The initiative's language — which focuses on "religious liberty" — is incredibly deceptive. It doesn't make clear the widespread implications of enacting this law. Implications that don't just impact LGBT people — but all Coloradans.
Imagine a law that allows a pharmacist to refuse to fill a birth control prescription. A law that permits an employer to refuse to hire people on the basis of sexual orientation or gender identity and expression. A law that gives protection to teachers who refuse to teach sex education or evolution. All for the sake of so-called religious freedom.
The deadline for objection to the petition is Monday and One Colorado says they need help raising $5,000 to fight it.