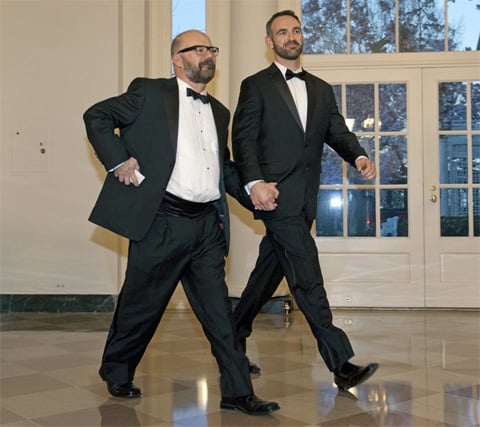 There was a huge gay presence at last night's White Houst State dinner for British Prime Minister David Cameron. Many of them high-profile fundraisers, along with newly-named HRC head Chad Griffin, and British blogger Andrew Sullivan and his husband Aaron (above).
UPDATE: Andrew Sullivan dishes on the evening here.
Among the gay and lesbian guests I was able to glean from the list:
John Berry, Office of Personnel Management director, and Curtis Yee, philanthropist and GeoCities founder David Bohnett, Wally Brewster and Robert Satawake, Washington Post columnist Jonathan Capehart and Nicholas Schmit IV, Joseph Falk and Mark Scott, philanthropist Timothy E. Gill and Scott C. Miller, Chad Griffin and Jerome Fallon, Barry Karas and Bruce Green, Bradley Kiley and James M. Coley, Hilary Rosen, Randi Weingarten and Louise Anne Rogers, and Andrew Sullivan and Aaron Tone. I'm sure I've missed a few.
The Washington Post adds:
The 362 guests — the largest state dinner of this administration — demonstrated the reciprocal relationship the United States and the U.K. have with each other's pretty celebrities.
And more from the NYT:
More than two dozen of Mr. Obama's fund-raisers were on the list, including Mr. Clooney; Anna Wintour, the editor in chief of Vogue; and the investor Warren Buffett.
Some of the Obamas' old Chicago friends are in town for the dinner, too, including Martin Nesbitt and Dr. Eric Whitaker.
Several guests hail from across the Atlantic, including Hugh Bonneville, the earl of Grantham on the popular PBS series "Downton Abbey"; Rory McIlroy, the Irish top-ranked golfer; Richard Branson, an English businessman who has supported Mr. Obama's Mideast policies; Denise Lewis, an Olympic gold medalist from England; and Jony Ive, the British designer and senior vice president of Apple.
The full guest list is here.
Watch a report on the dinner from the UK Telegraph, AFTER THE JUMP…