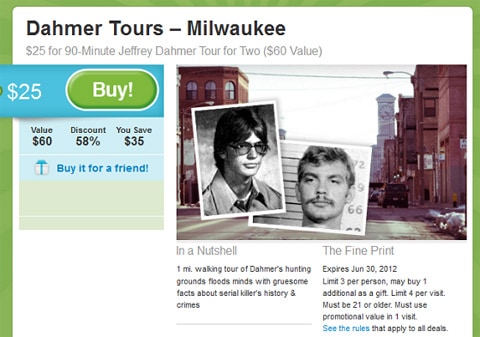 Groupon has canceled a grotesque deal offering a deep discount on a walking tour of the Milwaukee "hunting grounds" where Jeffrey Dahmer met his victims, the AP reports:
Groupon offered two tickets for $25, instead of the normal $60, and called the 1-mile, 90-minute tour a "spine-chilling glimpse" into Dahmer's life. But only 15 tickets sold before the daily-deal website closed the promotion. Spokesman Nicholas Halliwell said in an emailed statement that it was never Groupon's intention to offend anyone.
The company behind the tours is still offering them, however, despite protests from the neighborhood, where many of the victims' families still live:
Dahmer, a chocolate factory worker, would frequent gay bars in the area. He was arrested in 1991 and admitted to killing 17 young men, some of whom he mutilated and cannibalized. He was serving life prison sentences when a fellow inmate beat him to death in 1994.
His apartment building — where he stored body parts — was eventually razed. There's been talk over the years about putting a memorial there, but the idea has received mixed reactions.
(via ddm)