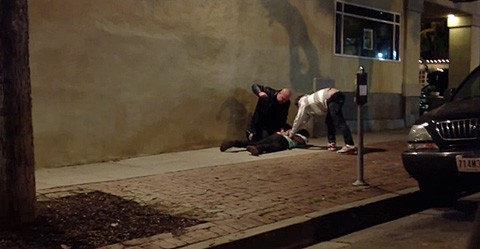 A video of a nightclub bouncer restraining a man on a West Hollywood sidewalk outside Voyeur nightclub is being circulated on the web. The incident captured on video, in which the bouncer uses a homophobic slur before assaulting the man, who is also being held down by another man, reportedly occurred on February 25th. The man being held down identifies himself as a "gay boy".
Watch the video, AFTER THE JUMP…
L.A. Weekly's Dennis Romero transcribes:
The bald-headed bouncer guy and another man hold down the victim while one of them accuses him of instigating a fight. (Warning: Foul language).
"Look at my face man," the victim says, "-they f**ked me up."
One of two men holding him down says: "F**k your face. I don't give a shit about your face."
Victim: "Trust me please I didn't start the sh*t. I was with my boyfriend. I'm a gay boy."
Face down on the ground, he tries to look up at his captors. One of them says:
"Yeah well your a f**kin' [unintelligible] … Stop f**kin' struggling motherfucker. "
At that point the victim receives what appear to be a pair of punches, one to his back and one to the back of his head, by the winner in black.
"Stop resisting," one of the men says. "Stay still motherf**ker."
Then one of the captors unleashes this: "Stop fuckin' moving you c*cks**ker."
Just then a security guard with a badge walks up, and one of the captors says, "Hey can we get some cuffs please."
"Stay where you are motherf**ker," the victim is told. "Shut up."
The paper also did some investigation and the bouncer may be from nearby gay club Fubar:
Det. Mike Berbiar of the West Hollywood sheriff's station says the person we've been calling the victim here was the only one arrested: The man, identified as, Timothy Reyes, is alleged to have assaulted five people inside Fubar that night before he was taken out and taken to the ground.
As Berbiar understands it, the fighting started over a jacket that the suspect thought was his but apparently wasn't. Some of those assaulted included folks such as bar staff who tried to break up the fight, he said. Reyes was cited on suspicion of battery and public intoxication and released, the detective told us. The detective wasn't aware of the video or of the action of the bouncer, however, and said he "would definitely be interested in looking into it."
Watch the video, AFTER THE JUMP…
A more detailed look at the incident at L.A. Weekly.