People for the American Way reports that Senator Harry Reid is seeking votes on judicial nominees stalled by Republican obstruction: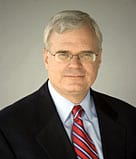 Senate Majority Leader Harry Reid announced today that he will file petitions to end Republican filibusters of 17 federal district court nominees. The extraordinary move highlights Senate Republicans' unprecedented obstruction of judicial nominees. During the entire 16 years that Bill Clinton and George W. Bush were in office, there were only two filibusters of district court nominations. If Senate Republicans don't relent on these 17 nominees, the cloture process could tie up the Senate through early April, with each nominee taking 30 hours of floor time under Senate rules.
Among them is gay nominee Michael W. Fitzgerald (pictured).
Chris Geidner at MetroWeekly writes:
Fitzgerald, who was nominated by President Obama in July 2011 for a judgeship on the U.S. District Court for the Central District of California, had a hearing in October 2011 and was reported by the Senate Judiciary Committee to the full Senate without opposition on Nov. 3, 2011…According to the list posted by Democrats today, Fitzgerald would be the third of the 17 nominees to be considered."
Said Reid:  "I hope that we can move through these. I hope that people aren't going to be doing more dilatory tactics. If cloture is invoked, people have a right, under our rules, to hold up the next judge in line for 30 hours. That will show what this is all about: It will show it's an effort to embarrass the president and not take into consideration 116 million people [living in districts with declared] who don't have the ability to have their cases tried in an orderly manner."