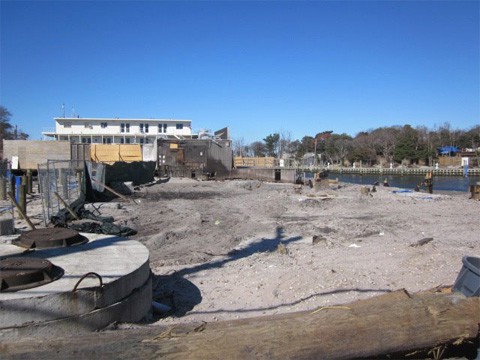 (image and inset image fire island pines historical preservation society facebook)
An unconfirmed report sprang up online late last week that Fire Islands Properties, which was destroyed by fire last November, is for sale for $22 million. Writes the blogger with the report, MarkatLarge, who wrote: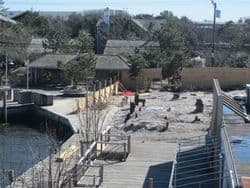 The sale of the Pines' largest commercial property is fueled by the lack of progress being made on rebuilding the Pavilion; as of today it remains a plot of sand. An inside source tells me there have been discussions of holding High Tea, the popular early evening party, around the hotel pool area. The pool area with its one small bar will be a tight fit for close to 1,000 thirsty boys who gather for pre-dinner cocktails and dancing.
Photos above and right, of what the property looks like today.
Asked for a comment from the Village Voice's Michael Musto, co-owner Andrew Kirtzman said he had no comment: "I don't have anything for you, unfortunately, but wanted to get back to you. I hope to speak with you soon."
Kirtzman released a passionate letter about the owners' dedication to the properties following the fire.
In related news, the design for the building next door which also burned and which housed the Sip n Twirl bar, was shared over the weekend by Fire Island Pines realtor Bob Howard, on Facebook. According to Howard the foundation and girders are complete.