Terence Finlay and James Ferry are reconciling after a landmark 'outing' incident that shook the Anglican church two decades ago, the Toronto Star reports: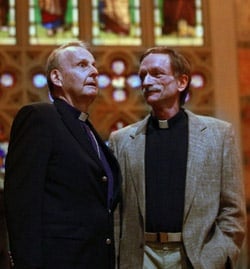 Twenty years ago, Finlay was Anglican Archbishop of the Diocese of Toronto. Ferry was a priest at St. Philip's Church in Unionville.
Ferry is gay. In 1988, he'd met Ahmad, a refugee from Lebanon. "It was love at first sight," Ferry has said. "I did not believe in love at first sight. But when it happens, well, it happens."
The two men became involved in a committed relationship. This became known in the parish. When it became apparent that some in the community were aghast at what resided in their clergyman's heart, Ferry went to see Archbishop Finlay.
That was a mistake, it turned out:
When Ferry informed Finlay of his circumstances, Finlay ordered him to end the relationship. Ferry refused. (The church accepted homosexual clergy, but only if they abstained from giving expression to that fact. In effect, if they lived a lie.)
Finlay then issued a letter to be read at all Anglican parishes, outing Ferry and "inhibiting" him from performing pastoral duties. Effectively, the priest was fired, becoming, he said, "an outcast . . . and a 'labelled' outcast."
Finlay and Ferry are participating in a public service of reconciliation on Sunday, the paper adds, and Finlay says he has evolved:
"I've moved in different directions," he told the Star. "And I have been very supportive of the gay and lesbian community, and also the whole question of gay marriage."
Toronto priests reconcile 20 years after gay 'outing' [toronto star]