Kristin Chenoweth talks about her new show GCB (Good Christian Belles, based on a book called Good Christian Bitches) with ABC News: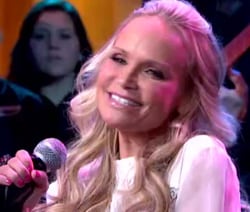 GCB revolves around Carlene's crew of similarly well heeled girlfriends, one of which is knowingly married to a gay man whose sexuality is kept secret from the church-going community. What does Chenoweth say to those critical of that plot point?
"I'd say go to church and take a look around the room and see if you see any women who might be married to a man who might be gay," she said. "I'd say be very careful of judging someone who's in marriage who is gay because they don't want to be told they're going to hell. I think that happens and I think it's horrible."
Chenoweth also says Christianity does not have to be anti-gay:
"Even as a young child, I thought, 'Why is being gay bad?,'" she said. "I didn't understand it. So I asked my grandma, who is the best Christian I ever knew. I'd say, 'What about my friend Denny, he's gay, is he going to hell?' She told me, 'I read the Bible like I eat fish. I take the meat that serves me well but I don't choke on the bone.'"