The Liberian government is defending remarks made by Nobel Peace Laureate and Liberian President Ellen Johnson Sirleaf ito the UK's Guardian newspaper.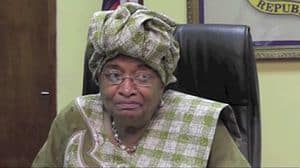 Sirleaf was asked if she would sign a law decriminalizing homosexuality.
Said Sirleaf:
"We like ourselves just the way we are…We've got certain traditional values in our society we'd like to preserve."
The U.S. State Department expressed concern about the remarks and said it would look into them.
Now, AFP reports:
In a letter to the Guardian seen by AFP Friday, the Liberian government said there were no anti-gay laws "and as such the president could not be defending a law on homosexuality."
Voluntary sodomy is a criminal offence in the West African country and can result in up to three years imprisonment, according to a lawyer consulted by AFP. However this year two new laws were introduced by lawmakers in a bid to toughen the punishment, including one which would make it a first-degree felony.
"What the president is on record as saying is that any law brought before her regarding homosexuality will be vetoed. This statement also applies to an initial attempt by two members of the Liberian legislature to introduce tougher laws targeting homosexuality," the letter said. It added that the government believed current legislation was sufficient. "The reality is that the status quo in Liberia has been one of tolerance and no one has ever been prosecuted under that law.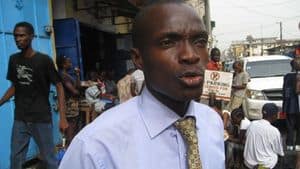 Archie Ponpon (pictured) and Abraham Kamara, two activists with Movement for the Defence of Gays and Lesbians in Liberia (Modegal), have been confronted by angry mobs in recent weeks, causing them to seek safety at the police station.
The BBC reported:
When the two activists tried to get their organisation officially registered by the government, Mr Ponpon says their "article of incorporation was denied".
"We wrote to the president complaining, but she has not responded," he says.
The home of Ponpon's mother was burned down: "He suspects it was an arson attack by people who do not support his stance. 'Since this incident, my mother has been in hiding,' he says."