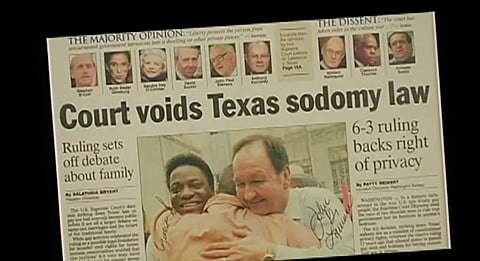 Lambda Legal looks back on the case that brought down sodomy laws:
In 1998, on a September night in Houston, police stormed into John Lawrence's home and arrested him and Tyron Garner for violating Texas' "homosexual conduct" law. "Overruled!" highlights their story and the courtroom drama behind Lawrence v. Texas — the case that led the U.S. Supreme Court to strike down all remaining state sodomy laws and launched a new era in the LGBT rights movement.
Watch, AFTER THE JUMP…
In related news, our legal expert Ari Ezra Waldman offered his thoughts on discussion of the new book Flagrant Conduct, which tells the story of the case, last week.