Two suspects wanted in the murder investigation of Chelsea resident John Laubach have been apprehended in Florida, the NY Post reports: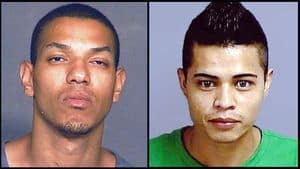 Ex-con Edwin Faulkner, 30, and suspected cohort Juan Carlos Martinez-Herrera, 26, were caught without incident by the NYPD's Manhattan Violent Felony Squad at a home in Orlando at about 11:30 a.m. and are awaiting an extradition hearing, sources said.
"There was a little hesitation. They didn't open the door right away, but there was no struggle," said one law enforcement source. "I don't blame them. If I knew I was getting arrested, I'd hesitate too."
Detectives with the Manhattan South Homicide Squad, and local law enforcement agencies down there, also aided in the capture, sources added.
Sources said that detectives honed in on the suspects by analyzing phone records.
Investigators believe Faulkner and Martinez-Herrera bound John Laubach's hands with duct tape, covered his mouth with tape and tied him to a bedpost in his West 22nd Street apartment during a gay tryst turned deadly on March 2.