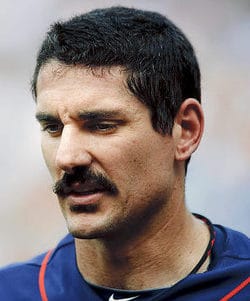 Police in Southington, CT, searched 36-year old Christian Bedard's home after he allegedly tried to extort money and a Range Rover from Minnesota Twins pitcher Carl Pavano in exchange for his silence on an alleged gay relationship the men had in high school.
Sports Illustrated reports that Pavano's sister, Michelle DeGennaro, contacted police after Bedard hit her up on Facebook and claimed to be shopping a book about his 3-year love affair with the baseball all-star and former Yankee.
According to a search warrant affidavit, Bedard wrote to DeGannaro, "I have serious juicy book offers…to the point that the only way your brother is getting out of this … is with a heartfelt apology and a navy range rover with tan leather.""
He continued, "If I'm going to drop a 1.2 million dollar book deal I want something." He also claimed to have depositions from people he told about his and Pavano's gay love, and allegedly asked for cash.
Upset over the messages, DeGannaro went to police, who launched the search.
Officers executed the search warrant at Bedard's home on March 21 and seized items, but wouldn't say what they were. Bedard said on his Facebook page that police took his laptop computer, material relating to his relationship with Pavano and the book he was writing. Bedard hasn't been charged.

The search warrant affidavit, first reported by the Record-Journal of Meriden, includes copies of several Facebook messages Bedard allegedly sent to DeGennaro. In the messages, Bedard said Pavano was his "first love" and they had a three-year relationship when they were teenagers growing up in Southington, the affidavit says.
Bedard claims he and Carl were more or less out to close friends and family. "For years, my physical high school relationship with Carl Pavano has been well-known to my close friends and family," he said in a statement. "Carl Pavano's sister, Michelle DeGennaro, contacted me on Facebook asking under what conditions would I not talk about my relationship with Carl."
The Range Rover request was "in jest," he says, and he in no way tried to extort Pavano.  "I did not attempt to extort money from Carl Pavano," Bedard said. "I have not been charged with any crime. I will allow my local police department to conclude their investigation.
"I feel a bit violated, but I hope they charge me with something, because I will bring it to trial. Finally I'll be able to tell my story and I will have my closure, which was the whole point to begin with."
Pavano had no comment.
Here, via My Journal, is a picture of Pavano and Bedard in high school: