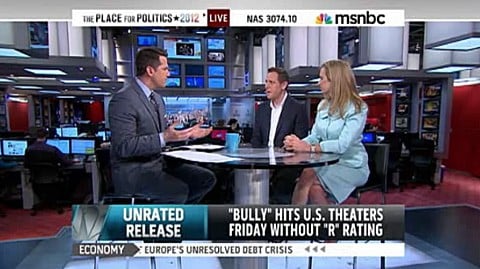 Bully filmmaker Lee Hirsch and human rights activist Kerry Kennedy joined Thomas Roberts in the MSNBC studio yesterday to talk about the film opening unrated and the impact it might have, and who needs to see it.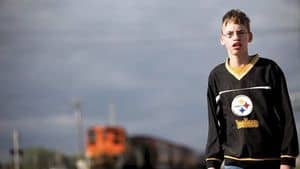 Watch, AFTER THE JUMP…
In related news, Regal, the nation's largest theater chain, will screen Bully as an 'R' rated film, and Carmike, the nation's fourth largest theater chain will also screen it as an 'R', so kids under 17 will not be able to see it without an adult.
Cinemark, the country's third largest chain, will not screen Bully.
AMC will screen Bully to kids under 17 with permission: "Guests younger than 17 can see the film if they are accompanied by a parent or adult guardian, or if they present a signed parental permission slip."
AMC's permission slip can be downloaded HERE.
Bully opens in five theaters in L.A. and NY this weekend, including AMC outlets. It opens to two dozen markets on April 13, when it will screen at Carmike and Regal venues.
Visit msnbc.com for breaking news, world news, and news about the economy