A hideous attack has been reported on a gay man in Chile. Daniel Zamudio remains hospitalized in a coma after a group of neo-Nazis attacked him over the weekend. Chilean news reports can be found here, here, and here.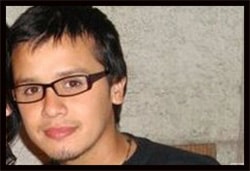 Michael Lavers at EDGE translates the reports:
El Mercurio reported that Daniel Zamudio, 24, was found in Parque San Borja early Saturday morning. El Movimiento de Integración y Liberación Homosexual (Movilh), the country's largest LGBT rights group, told La Tercera that Zamudio's attackers struck him with blunt objects before they cut off part of his ear, carved swastikas into his abdomen and burned other parts of his body with cigarettes.
Zamudio's mother told the newspaper that her son had gone to work at a store on Friday, but she did not know his whereabouts until he was found in a park the following day. She told La Tercera that neo-Nazi groups had previously threatened Zamudio inside a popular Santiago nightclub.
More information is available for Spanish speakers at MOVILH's (Chile's LGBT rights group) Facebook page.
Said MOVILH in a statement: "We condemn this cruel act that tramples the equal dignity of all human beings. We ask the Chilean authorities to bring the guilty to justice. A crime this hateful cannot go unpunished."
Ricky Martin has also spoken out about the attack, tweeting: "No más odio,no más discriminación. Espero que se haga justicia YA. Mucha luz para Daniel y toda su familia."