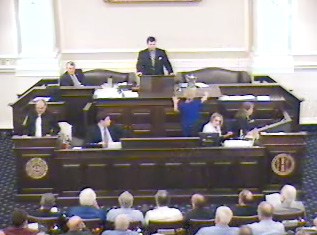 Great news. A vote to repeal marriage equality has failed in the New Hampshire House by a vote of 211-116. HB 437 would have repealed the state's marriage equality law and replaced it with civil unions.
The Republican-controlled House voted 202-133 against the repeal. Same-sex couples have been able to marry in New Hampshire for two years.
The vote came after about two hours of debate on the bill and associated amendments, including ones which would have implemented civil unions and called for a nonbinding referendum on the issue.
Even if the bill had passed, Gov. John Lynch had pledged to veto it.
More from Phil Reese at the Washington Blade:
Several Republicans crossed the aisle to defeat the measure, including Reps. Mike Ball and Jennifer Coffey, who spoke out against the bill last week along with other advocates and Democratic lawmakers at a news conference organized by the marriage equality group Standing Up For New Hampshire Families. During a long and contentious debate on the bill in which the same amendment was brought back for reconsideration twice, strong statements were made on all sides of the issue.
"God is my judge, this legislative body is not my judge," Rep. Cameron DeJong proclaimed. "Allow me to have this discussion between my God and me about my decisions."
Rep. Ball compared the bill to segregation in the South, "Let's put this dog down, like it deserves to be."
In a surreal moment during the debate, an amendment to the bill was introduced to also bar marriage between left-handed people. That amendment failed to be considered.
NOTE: The original vote total of 202-133 (still noted on WMUR's site at the time of this posting) is incorrect, and the correct vote count is indeed 211-116.