There's been a lot of discussion lately about whether Obama will issue an executive order protecting federal contractors from discrimination based on sexual orientation and gender identity since efforts over the past four years to pass such a measure (ENDA) have failed legislatively.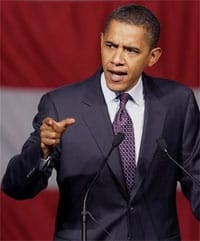 The White House has remained silent on the issue when asked by reporters.
MetroWeekly's Chris Geidner did some digging and found a 2008 survey on which then-Sen. Barack Obama indicated to the Houston GLBT Political Caucus that he would support such a policy as president.
Obama's response – according to the survey, a copy of which was provided exclusively to Metro Weekly on condition of anonymity – was one word: "Yes."
Obama, in responding to the group's 2008 presidential candidate questionnaire, also stated that his campaign had a "written non-discrimination policy that includes sexual orientation and gender identity." He added that "[a]n Obama White House will implement a similar non-discrimination policy." In it, Obama states that he supported such a policy for all federal employees and, in a separate question, for all federal contractors.
MetroWeekly was promised an on-the-record response by noon yesterday on the 2008 questionnaire but has not, so far, provided one.
A copy of the questionnaire, AFTER THE JUMP…
In related news, more than 105,000 people have signed a Change.org petition asking Obama to sign such an order. If he did so, more than 16 million workers would be protected against LGBT discrimination.