Gay Facebook co-founder Chris Hughes tweeted late last night: "I am honored to take on the role of Publisher and Editor-in-Chief of The New Republic"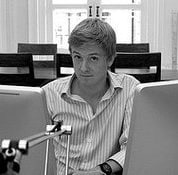 The NYT confirms Hughes' purchase of a majority stake:
Mr. Hughes, 28, will become publisher and the editor in chief of the magazine, and Richard Just will remain the editor. Martin Peretz, who was editor in chief from 1975 until 2010, when his title was changed to editor in chief emeritus, will become a member of the magazine's advisory board.
The terms of the sale were not disclosed. Mr. Hughes said he was motivated by an interest in "the future of high-quality long-form journalism" and by an instinct that such journalism was a natural fit for tablets. He said he would "expand the amount of rigorous reporting and solid analysis" that the magazine produces.
Said Hughes:  "Profit per se is not my motive. The reason I'm getting involved here is that I believe in the type of vigorous contextual journalism that we — we in general as a society — need….But I'm investing and taking control of The New Republic because of my belief in its mission, not to make it the next Facebook."
Hughes also wrote a letter appearing on the magazine's website. reading, in part:
In the next era of The New Republic, we will aggressively adapt to the newest information technologies without sacrificing our commitment to serious journalism. We will look to tell the most important stories in politics and the arts and provide the type of rigorous analysis that The New Republic has been known for. We will ask pressing questions of our leaders, share groundbreaking new ideas, and shed new light on the state of politics and culture.
The New Republic has been and will remain a journal of progressive values, but it will above all aim to appeal to independent thinkers on the left and the right who search for fresh ideas and a deeper understanding of the challenges our world faces.