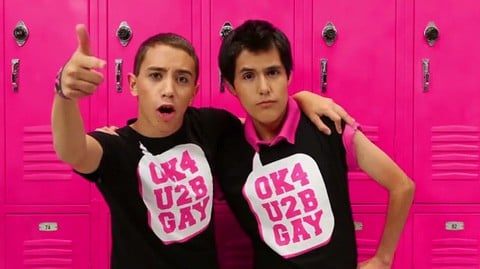 A new campaign, H8SUX, hopes to recruit kids to fight homophobia in schools by giving away free t-shirts to any teen who simply makes a special YouTube video pledge to speak out against homophobia at school and support gay marriage, according to its organizers.
Said director Luke Montgomery, who also created the well-known FCKH8 campaign(which he says has raised more than $250K for equality causes):
"We are recruiting kids to the cause of promoting the acceptance of homosexuality in schools. In a world full of bullies, suicide and hate, thousands of school kids wearing a pro-gay message in classrooms can be lifesaving and great. Kids are born gay, lesbian, bi and trans – and when I came out at 15, I was brutally beaten and left unconscious and bloody in a ditch. In 2012, kids should not be bullied and attacked just for being who they are. This free T-shirt will be a pro-gay billboard plastered on the chests of thousands of kids in classrooms across the nation. Our agenda is simple: to tell kids that it's "OK4U2BGAY."
The H8SUX campaign" is also making an appeal to adults that for every hoodie, tank top or tee sold on H8SUX.com, the organization says it will send a teen an "OK4U2BGAY" tee for free.
Watch the new video, AFTER THE JUMP…
H8SUX.com: Free T-Shirts 4 Teens from H8SUX.com on Vimeo.