Adrienne Rich, one of America's great poets, has died at the age of 82, the AP reports: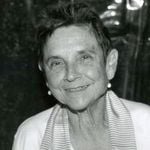 Rich died Tuesday at her Santa Cruz home from complications from rheumatoid arthritis, said her son, Pablo Conrad. She had lived in Santa Cruz since the 1980s.
Through her writing, Rich explored topics such as women's rights, racism, sexuality, economic justice and love between women.
Rich published more than a dozen volumes of poetry and five collections of nonfiction. She won a National Book Award for her collection of poems "Diving into the Wreck" in 1974. In 2004, she won the National Book Critics Circle Award in Poetry for her collection "The School Among the Ruins."
Rich came out of the closet after leaving her husband and met her lifelong partner, the writer Michelle Cliff, in 1976.