Landmark Theatres is the largest art house theater chain in the U.S., and is seriously considering showing Question 1, the documentary about the 2009 effort to repeal marriage equality in Maine, in its theatres nationwide, Americablog reports: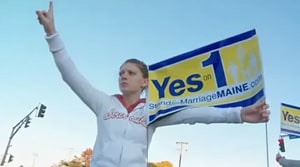 What's most interesting about the documentary is that even though it's "fair" – both sides get to tell their story – the anti-gay campaign does a bang-up job of indicting themselves by the end of the film. Their campaign manager, Mark Mutty (who works for the Catholic Diocese of Maine), makes it clear that they lied to the people of Maine in order to take away our civil rights. And the mastermind behind the lies was Frank Schubert, who did the same thing on Prop. 8 (won by telling voters the lie that we were coming after their children) – and, no doubt, will again. The admissions are damning. And that's one good reason for anyone who is interested in the quest for marriage equality to see this film.
Watch the six-minute trailer, AFTER THE JUMP…
Here's how you can help:
Email Landmark Theatres: Q1Landmark@gmail.com
All you need to do is send a quick email to Landmark, telling them you'd like them to show "Question One," the documentary about the marriage equality battle in Maine, in their theaters, and that of course you'll go the show and tell your friends about it. Use this email address: Q1Landmark@gmail.com The film's directors will then hand deliver the emails to a Landmark executive. If you want, put your home town in the subject line of the email, so that the geographic diversity of interest is clear on its face just by looking at the subject lines.