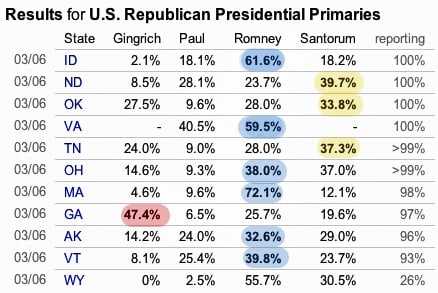 Super Tuesday results:
Romney wins Idaho, Virginia, Massachusetts, Alaska, Vermont, most likely Wyoming, and appears to squeeze Santorum out of an Ohio win.
Santorum wins North Dakota, Oklahoma, Tennessee, and almost wins Ohio.
Newt Gingrich wins his home state of Georgia.
All find reason to continue.
NYT:
…But all eyes were on Ohio, which The Associated Press called for Mr. Romney early Wednesday morning, capping a turbulent night in which the results see-sawed both ways within a very tight range. Even around 1 a.m., Mr. Santorum's campaign manager said he was still awaiting an assessment of provisional ballots that had not been counted before deciding to concede.
Speaking in Steubenville, Ohio, earlier in the evening, Mr. Santorum declared: "We've won the West, the Midwest and the South, and we're ready to win across this country."
When the result in Ohio was still pending, Mr. Romney assured supporters in Boston, "I'm going to get this nomination." But acknowledging the mode that his campaign has now entered, he added: "Tonight we're doing some counting. We're counting up delegates."
Last night after winning Georgia, Gingrich declared himself "the tortoise".
Watch, AFTER THE JUMP…