The Human Rights Campaign criticized Rick Santorum after Reuters reporter Sam Youngman tweeted about an incident that took place at a bowling alley campaign stop in Wisconsin earlier today.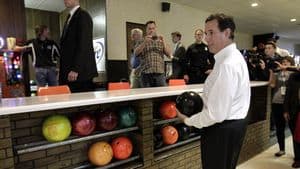 Tweeted Youngman:
"You're not gonna use the pink ball. We're not gonna let you do that. Not on camera." Santorum to a young fella bowling with him
Said HRC's Fred Sainz in a press release:
"This is another example of Rick Santorum intentionally making ignorant statements that have a real impact on LGBT people. Whether he's comparing our marriages to inanimate objects, saying our children would be better off with a parent in prison as opposed to two loving same-sex parents, or calling open military service a 'tragic social experiment;' he's proven that he thinks LGBT people are second-class citizens not worthy of dignity or respect. In this case, he's advancing tired gender norms by implying a boy should be ashamed or embarrassed to use a certain color bowling ball…Kids have enough to worry about. They don't need Rick Santorum telling them that using a pink bowling ball is a bad thing."
(image via)