Comedienne Kate McKinnon has joined the cast of Saturday Night Live, MyFOXNY reports: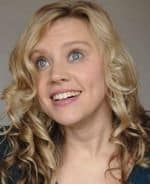 McKinnon, who cut her teeth on Logo's "The Big Gay Sketch Show" — produced by Rosie O'Donnell — could make her first appearance as soon as this Saturday night in an episode hosted by "Modern Family" star Sofia Vergara, according to Deadline.com.
McKinnon, a trouper in the New York-based Upright Citizens Brigade comedy team, has also been in several one-woman shows including "Disenchanted," according to reports.
Terry Sweeney was the first gay man to appear on "SNL" as a cast member during the 1985 season — 10 years after the show's premiere on NBC.