The Center for Constitutional Rights on behalf of LGBT rights group Sexual Minorities Uganda is suing American evangelist Scott Lively "under the alien tort statute, which allows foreigners to sue in American courts in situations alleging the violation of international law," the NYT reports: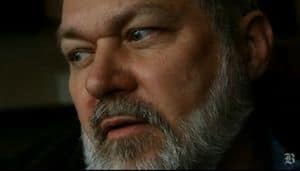 The lawsuit alleges that beginning in 2002, Mr. Lively conspired with religious and political leaders in Uganda to whip up anti-gay hysteria with warnings that homosexuals would sodomize African children and corrupt their culture…
…Reached by telephone in Springfield, Mass., where he now runs "Holy Grounds Coffee House," a storefront mission and coffee shop, Mr. Lively said he had not been served and did not know about the lawsuit. However, he said: "That's about as ridiculous as it gets. I've never done anything in Uganda except preach the Gospel and speak my opinion about the homosexual issue. There's actually no grounds for litigation on this."
Mr. Lively is the founder and president of "Abiding Truth Ministries." He is also the author of "The Pink Swastika: Homosexuality in the Nazi Party," which claims that Nazism was a movement inspired by homosexuals, and "Seven Steps to Recruit-Proof Your Child," a guide to prevent what he calls indoctrination by homosexuals.
I have posted about Scott Lively many times here.