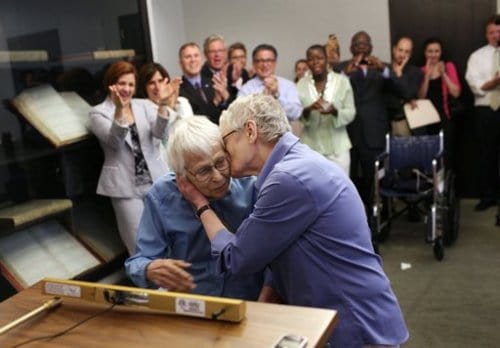 NYC's Heritage of Pride has announced this year's Pride parade Grand Marshals.
Cyndi Lauper, Kiehl's President Chris Salgardo, and Connie Kopelov and Phyllis Siegel (New York City's first gay couple to tie the knot under marriage equality) will headline the 43rd annual event on June 24th.
"Our choices for this year's Grand Marshals embody everything we look for in representatives that give back to the LGBTcommunity and have made a huge impact on the overall movement. Chris Salgardo's consistent track record on corporateresponsibility, Cyndi Lauper's True Colors Foundation, and Connie & Phyllis' symbolic, newly legalized union further prove that the LGBT movement is alive and well," said Mike Dunlap, March Director.
Said Lauper: "I am honored to be a grand marshal for the New York City Pride March this year. Pride is one of my favorite times of the year, and as a lifelong New Yorker, I am excited to get to celebrate it in the greatest city in the world. So much progresshas been made recently for the gay, lesbian, bisexual and transgender community, but we still have so much work to do, especially when it comes to youth homelessness. I look forward to marching down 5th Avenue arm and arm with mybrothers and sisters in the LGBT community as we let the world know that we will not rest until equality for all becomes a reality."