Iowa's most virulent anti-gay activist, Bob Vander Plaats, is holding a hate rally in the Iowa Capitol today at 10 am, the Des Moines Register reports: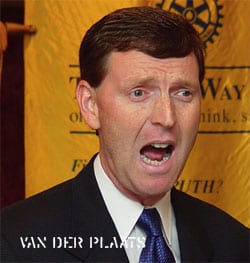 The Family Leader, a conservative Christian organization, will hold a rally in the Capitol Rotunda aimed at convincing the state Senate's Democratic leaders to take up a proposed constitutional amendment prohibiting same-sex marriages…
…The Family Leader rally, sponsored in conjunction with the National Organization for Marriage and CatholicVote.org, will implore the Senate to "let us vote." The organization, headed by former gubernatorial candidate Bob Vander Plaats, also expects to deliver a petition containing more than 20,000 signatures in favor of the amendment in the coming week.
"Even though the economy dominates the legislative discussion, it is apparent that Iowans want to be heard on this issue as well," Vander Plaats said in a statement announcing the rally. "Teaming up with the Catholic community for this rally sends a strong message to Democratic Senators to 'let us vote.'"

LGBT rights group One Iowa will be holding a counter-protest outside the building. According to the paper, it "will feature speakers from Iowa Republicans for Freedom, a GOP group that supports same-sex marriage, the Interfaith Alliance of Iowa, the AFSCME Council 61 union, state Sen. Matt McCoy and a married couple from Solon."
Think Progress LGBT has posted a video of some of Vander Plaats' ugly video moments.
Watch it, AFTER THE JUMP…