Police have arrested Paul Martinson (pictured), one of two men wanted in connection with an attack on a gay couple that took place last week in downtown Portland, Oregon, The Oregonian reports: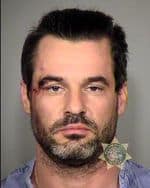 The couple told police they had just parked at Southwest 3rd Avenue and Oak Street and were holding hands as they walked toward the Silverado Bar and Nightclub about 11:20 p.m., Simpson said.  Two men approached the couple as they walked, Simpson said. One allegedly made anti-gay slurs, sparking a verbal argument that escalated into a physical fight between one of the suspects and one of the victims, a 22-year-old man.
As the two fought, the second suspect showed a knife and continued to use anti-gay slurs before kicking the 22-year-old, Simpson said. The victim managed to fight the two suspects off and ran into the bar to call for help. Silverado security watched as the two suspects began smashing the windows of the SUV the couple had arrived in, Simpson said.
Police are still looking for the second suspect.