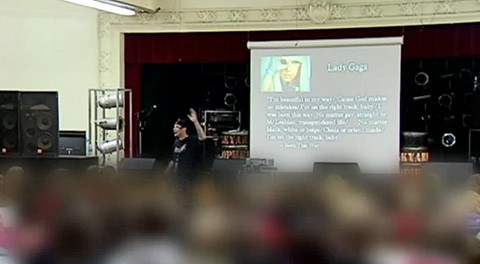 Over the weekend, Brandon posted about the visit paid to Iowa's Dunkerton High School by Junkyard Prophet, the rock band/missionary tentacle of 'You Can Run But You Can't Hide Ministries', a Christianist group founded by Bachmann-ally Bradlee Dean.
Dean once called Barack Obama a heathen while delivering an opening prayer at the Minnesota State House, and sued Rachel Maddow for pointing out that Junkyard Prophet supports Muslim ideology calling for executions of homosexuals.
School officials had no idea about Junkyard Prophet's background, so they were allowed to give an assembly to junior and senior high school students in which a band member condemned homosexuality and told students gays are sexual deviants who die at the age of 42. They were also shown images of aborted fetuses.
Now there's video of that portion of the assembly, provided by the You Can Run But You Can't Hide Ministries itself.
Watch, AFTER THE JUMP…
(clip via good as you)