President Obama missed an opportunity to simultaneously protect LGBT Americans and paint Mitt Romney into a corner when the President refused to sign an executive order banning LGBT workplace discrimination. Most Americans are baffled when you tell them that people can be fired simply for being gay; they think a ban on such discrimination already exists. More than 70 percent of Americans support the anti-discrimination law, including the version of Mr. Romney that ran for the Senate in 1994.
And, signing the executive order would fulfill yet another 2008 Obama campaign promise.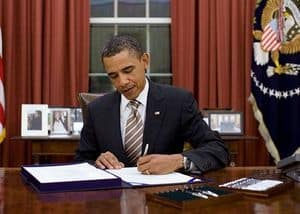 The White House offered a few tepid and unbelievable explanations for the President's refusal to sign the nondiscrimination executive order. At one point, the Administration said it was concerned about a possible lawsuit from a conservative federal contractor who might feel that discrimination on the basis of sexual orientation is his religious right.
That argument should strike even the most green civil rights attorney as baffling: where civil rights executive orders have been challenged in the past, the challenger "loses 100 percent of the time," as Freedom to Work Founder Tico Almeida told Current TV. Later, Administration spokespersons implied that an executive order is not a priority because "the time is right for a comprehensive legislative approach" by passing the Employment Non-Discrimination Act (ENDA) through Congress. But, that position is even less tenable: Republicans control the House of Representatives and have shown less than zero interest in LGBT equality, let alone an inclusive ENDA.
We are disappointed. But, politics has to be more than tallying up your interest group's victories and losses and calling someone childish names. The political science of civil rights movements shows us that progress in war can emerge from loss in battle, and last week's fracas both proves how much progress we have made and can foster more progress by proving that pro-gay social positions are no longer the electrified third rail of American politics, but rather great boons to political success. 
Let's discuss how, AFTER THE JUMP…
There are two possible explanations for President Obama's decision: One is craven politics, and an incorrect one; the other is apolitical, but a little naive in the current polarized political climate.
The already well-organized Obama re-election campaign may have an interest in minimizing off-message disruptions, but any campaign that sees the nondiscrimination executive order as off-message or a disruption is living in 2004, not 2012. Pro-gay positions simply do not have the kind of negative traction with the broader conservative movement that they once did: anti-gay boycotts are failing; Republicans who vote for marriage recognition are winning primaries, elections, and raising enormous sums of money; majorities support marriage recognition even when survey takers are told that it would mean a "redefinition" of marriage; and schools are becoming more sensitive to identity expression and the needs of LGBT students, to name just a few examples.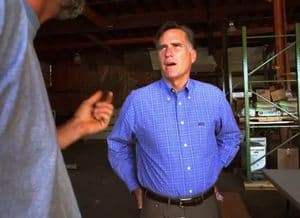 A nondiscrimination executive order is far less controversial than marriage, the Defense of Marriage Act (DOMA), and "Don't Ask, Don't Tell" (DADT), and far more antiseptic than other gay issues like sodomy laws. Conservatives may think same-sex marriage means changing or redefining an ancient institution, but ending employment discrimination tends to appeal to a conservative's belief in hard work, merit, and autonomy. Signing this executive order could have also put Mitt Romney on the spot: his stated opposition to discrimination is already impossible to believe given his various anti-gay positions, but President Obama could have driven the point home with a stark contrast on an "80-20" issue.
The apolitical explanation for the executive order failure is an institutional distaste for executive orders. Traditionally, progressives, like President Obama, find broad unitary executive power dangerous and a recipe for government control by wealthy elite interests. That is, the more power the executive has, the less power Congress has. This is no Tea Party-esque populist attack on government: libertarians believe in as little federal power as possible, liberals (or, progressives) have faith in the federal government's power to address social wrongs, but generally oppose doing so by presidential fiat. After all, liberals should worry about an impossibly large executive in the hands of conservatives like Rick Santorum or Michelle Bachmann or even the immoderate Mitt Romney (who wants to reinstate DADT through executive order, for example).
While this legitimate and honorable approach to government merits consideration and reflects President Obama's natural political proclivities, it can no longer explain this Administration's behavior. Months ago, the President embarked on his brave and bold "We Can't Wait" campaign in which he took on Republican obstructionism in Congress and promised to help solve Americas problems through his executive powers. He has already dedicated hundreds of billions of dollars to job creation and issued executive orders in countless other areas where legislation has been blocked by Speaker John Boehner or Senate Minority Leader Mitch McConnell. Plus, even a future ENDA would require an executive order to interpret the law, create enforcement mechanisms, and ensure inclusion of gender expression.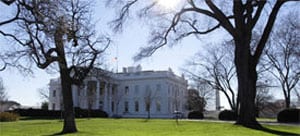 Mr. Obama's inaction in this instance is a disappointment, a failure of leadership. But, with respect to gay rights, this president has shown great leadership before and, I am confident, will show great leadership in the future. That may not be enough for the disgruntled — the impossible-to-satisfy liberals and the conservative LGBT community who oppose Mr. Obama on a wide swath of issues. But, rather than using this incident as a pretext for liberals to find glee in needling our great White House ally or for conservatives to drive a wedge between the President and gay America, we should use it as a teachable moment in two ways: We should teach the White House about 2012 politics and teach ourselves about just how far we have come.
First, the Human Rights Campaign, Freedom to Work, and other gay rights organizations working on ENDA and the nondiscrimination executive order should keep the pressure on the Administration to sign the executive order, but also take a step back and see the broader picture. They should publish a white paper on the political benefits of signing this order as part of a series of political analyses on the political benefits of pro-gay positions. This is not Karl Rove's 2004, where anti-gay positions ensured President Bush's reelection. It is 2012, where even President Obama's evolution on marriage recognition is considered a little backward. Our advocates should also discuss this issue not in terms of a gay person's individual right to be free of discrimination, but as a necessary step to ensure that merit is the shibboleth of American employment. This executive order is a jobs program, not a grant of special rights.
Second, these groups, their members, their allies, and all of us should do everything possible to re-elect President Obama and elect Democratic allies to Congress. No matter how disappointed we are in the Administration's failure on this executive order, we cannot deny that President Obama has been the most gay-friendly president in history and that a Democratic-controlled Congress is undoubtedly more gay-friendly that one run by Speaker Boehner.
But, it's more than that, and herein lies the political lesson for us.
Unlike the fight against Amendment 1 in North Carolina, unlike the fight against the ban on same-sex marriage in Minnesota, and unlike the fight against Tennessee's "Don't Say Gay" bill, for example, the fight for an executive order is a pro-equality offense, not a rearguard defense. Progressive leaders like President Obama and Governors Andrew Cuomo of New York, Christine Gregoire of Washington, Martin O'Malley of Maryland, and Pat Quinn of Illinois allow us to put our quarterbacks on the field and play the kind of offense that scores civil rights victories. If we stew in our sneakers, embittered by failure to score on fourth and inches, we risk being on defense for the rest of the game, where the best we can hope for is not getting further behind.
If we stay home on election day or put the President's re-election at risk, we have to shift into defense against the inevitable conservative antigay onslaught like we have seen since 2010 at the state level. President Obama, like progressive governors, senators, and representatives, is not the lesser of two evils, he gives us our only chance to win.
***
Ari Ezra Waldman is a 2002 graduate of Harvard College and a 2005 graduate of Harvard Law School. After practicing in New York for five years and clerking at a federal appellate court in Washington, D.C., Ari is now on the faculty at California Western School of Law in San Diego, California. His research focuses on gay rights and the First Amendment. Ari will be writing weekly posts on law and various LGBT issues. 
Follow Ari on Twitter at @ariezrawaldman.