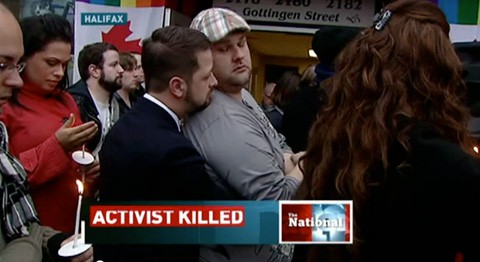 Hundreds of people turned out for a vigil in Halifax, Nova Scotia in honor of 49-year-old Raymond Taavel (pictured, below), a Canadian gay activist who was brutally beaten by a schizophrenic on unescorted one-hour leave from a psychiatric hospital this week.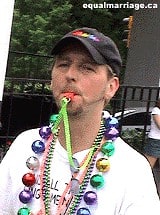 Andre Noel Denny, 32, used anti-gay slurs during the attack, and authorities are determining the murder's status as a hate crime. Denny is scheduled to appear in court Wednesday on a charge of second-degree murder.
According to court documents, Mr. Denny was found not criminally responsible for a "variety of offences" on Sept. 1 and 2, 2009, including uttering threats, causing unnecessary injury to a dog, possession of stolen property (the dog) and breach of probation. Court documents also indicate he has "a long history of schizophrenia, paranoid subtype, coupled with a substance abuse problem." Police could not confirm reports the suspect yelled gay slurs at Mr. Taavel, but say they are "considering all possibilities" with respect to a motive.
To the man who worked beside Mr. Taavel for 13 years, the activist was a passionate "activist without anger."
"He had a lovely, joyous presence," said Barry Boyce, a senior editor who worked with Mr. Taavel at Shambhala Sun magazine in Halifax. "You couldn't stay mad at him for more than 35 seconds" he told the National Post, his voice shaking. "He was a real sweet guy."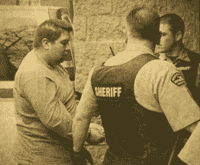 570 News adds:
The lawyer for a man accused in the death of a prominent activist in Halifax's gay community says his client should not have been released from a local psychiatric facility. Pavel Boubnov said outside provincial court that Andre Noel Denny should not have been granted a one-hour pass Monday night from the East Coast Forensic Unit. Boubnov says Denny, who is scheduled to appear in court later today on a charge of second-degree murder, is afraid and wants to return to the psychiatric unit.
Watch CBC's report on the attack and vigil plus a few moments from the vigil including a speech from Boyce, AFTER THE JUMP…