Attorney Gloria Allred appeared with Jenna Talackova, the Miss Universe Canada contestant who was disqualified last week from competing in the Miss Universe pageant (the decision was reversed but it's not clear if Talackova will compete).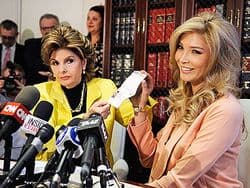 Allred said that Talackova is considering suing the pageant, People reports:
"Mr. Trump's statement fails to state that the rule that only naturally-born women will be allowed to compete will be eliminated," Allred said. "Otherwise, we are considering all of Jenna's legal options."
Added Allred:
"Jenna entered this competition and gave the pageant her time, her best efforts and her money. She did not think for one moment that what she might have looked like at birth would be relevant. She did not ask Mr. Trump to prove that he is a naturally-born man, or to see the photos of his birth, to view his anatomy, to prove that he was male. It made no difference to her. Why should it have made a difference to him?"
Donald Trump responded by calling TMZ and telling them that Allred would be very impressed with his genitalia, and that he "couldn't care less" if Talackova competed.
Watch, AFTER THE JUMP…