A Catholic priest "shocked" parents and one child at a presentation at St Mary's School in Northern Ireland after indecent images of men appeared on screen at the beginning of his  presentation, the Belfast Telegraph reports: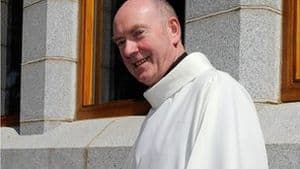 Father Martin McVeigh was about to host an advisory Powerpoint presentation for parents on the subject of their children's imminent Holy Communion event last week but instead displayed shocking gay porn scenes.
It is believed among the 26 parents present, there was also an eight-year-old child at the meeting which came to a halt after the shocking images were shown. School Principal, Sean Devlin is said to have contacted the Armagh Archdiocese to inform them of the unpleasant event while the PSNI are investigating the incident but say on the basis of the evidence available, no crime had been committed.
The BBC adds:
"He was visibly shaken and flustered," said the parents. "He gave no explanation or apology to the group and bolted out of the room. The co-ordinator and the teachers then continued with the presentation. The meeting continued in his absence, however, the parents who viewed the pictures were horrified and distracted. Twenty minutes later he returned, he continued with the meeting and wrapped up by saying that the children get lots of money for their Holy Communion and should consider giving some of it to the church."