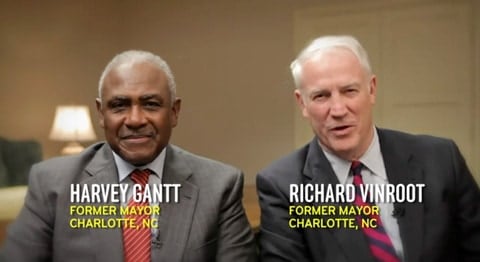 Protect all NC Families has just released a powerful ad in which former Charlotte, North Carolina mayors Harvey Gantt and Richard Vinroot speak out against Amendment One, which would constitutionally ban same-sex marriage and other gay unions.
Watch, AFTER THE JUMP…

Vinroot, a Morehead scholar, a UNC basketball player, and a Bronze Star holder for his military service, is the first major Republican statewide figure to record an ad against an anti-LGBT amendment.
Gantt, the first African American to enroll at Clemson, to serve as Mayor of Charlotte and tob e nominated for statewide elective office in NC, is among the first Black statewide political figures to record an ad against an anti-LGBT amendment. Gantt is also closely involved with the Democratic National Convention in Charlotte.
Says Vinroot: "[Amendment One] is unnecessary and may have serious unintended consequences."
Adds Gantt: "And some of those consequences may harm women, children and families throughout North Carolina."
The mayors also point out the the negative economic impact of Amendment One and the fact that it would write discrimination into the constitution. Never before have the two mayors appeared together to oppose a statewide ballot measure.
Watch, AFTER THE JUMP…
Help out the campaign to defeat Amendment One here.