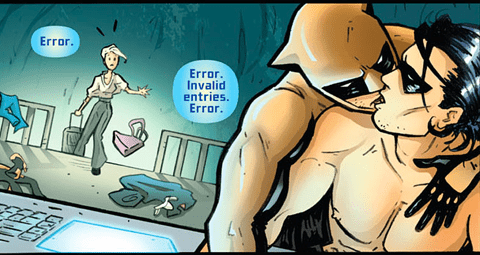 Comic book company Boom! Studios yesterday released the second installment of Supurbia, a limited series about a super-hero team and their significant others.
One of the team members, Night Fox, has been keeping a bit of a secret from his manager and wife: he's sleeping with his sidekick, Agent Twilight.
Wifey is less than pleased, to say the least, and threatens to expose him. Night Fox isn't so much worried about being outed as he is about what it will do to his lucrative brand — and how his team leader, vaguely homophobic hero Sovereign, will react.
Though LGBT characters are becoming more common in comic books, it's rare to see a title explore the ins and outs of a hero trying to reconcile his private life with a public career based on super-powered celebrity. If you have a chance, I definitely suggest you check out Supurbia.
It's only running for four issues, so there's no huge time commitment for those of you looking for NSA.
Update: I've just learned that Supurbia has been turned into an ongoing series. Sorry, NSAers! You'll just have to stick around.