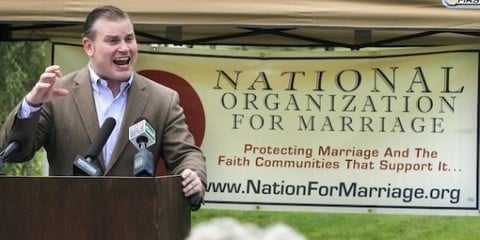 The National Organization for Marriage claims either Human Rights Campaign or an IRS official broke the law by releasing and disseminating the hateful group's 2008 tax returns listing their major donors, including Mitt Romney. Now NOM president Brian Brown is floating the threat of a federal investigation.
"The National Organization for Marriage (NOM), today demanded a federal investigation of the Human Rights Campaign (HRC) and the Internal Revenue Service (IRS) to determine who was responsible for releasing NOM's confidential federal tax return information to the Huffington Post," the group wrote on their blog.
Brown, that perpetual victim, included his personal take:
It appears that someone with either the IRS or the HRC may have committed a federal crime by illegally obtaining and then releasing a confidential tax return of the National Organization for Marriage.

It's clear that the tax return was stolen, either from NOM or from the government. The Huffington Post article says that HRC claimed they received the document from a 'whistleblower.' But the term 'whistleblower' is completely inapt. We're talking about a criminal who has stolen confidential tax return information. We demand to know who this criminal is, whether they work for the HRC or the IRS, and how they obtained confidential tax information filed only with the US government."

I would like to know what the HRC knew and when did they know it. It certainly appears that either the HRC was involved in illegally obtaining this tax return themselves, or they worked with a criminal who stole it from NOM or the IRS. Either way, it appears that a federal crime may have been committed.
So, he's basically calling for an investigation to reveal an anonymous source? I know NOM doesn't respect whistleblowers, but c'mon! But way to try to distract people from that whole race-baiting strategy of yours…