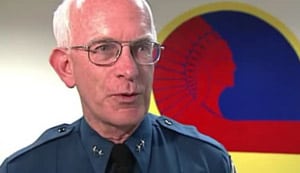 Former Arapahoe County Sheriff and conservative Republican Pat Sullivan was sentenced to 30 days in jail and two year probation for his meth-for-sex arrest last year.
In detailing the case against the Denver resident, CBS News reports that police found a whole arsenal, some good and some bad, in his apartment:
Evidence forms obtained by CBS4 show that investigators, who were given consent to search Sullivan's home, recovered "49 various pornography DVDs … Misc gay male porn magazines and DVDs … envelope with condoms … three Arapahoe County Deputy Sheriff badges … "

Additionally, from Sullivan's garage and bedroom, they recovered a 12-gauge shotgun, a Winchester .22 caliber rifle and a 16 gauge shotgun.
Sullivan was arrested after offering an informant drugs in exchange for sex. Also during the sting, he broke out a portable DVD player, put on some gay porn and said, "This is … what I think you'll enjoy; real young guys."
AFTER THE JUMP, a recap of Sullivan's arrest.