Yesterday, Dan Savage reacted to the conservative fury over his remarks at the JEA/NSPA National High School Journalism Convention, which Brandon featured over the weekend and which you should surely check out HERE.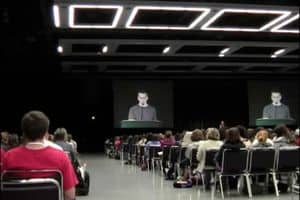 Writes Savage at Slog:
I would like to apologize for describing that walk out as a pansy-assed move. I wasn't calling the handful of students who left pansies (2800+ students, most of them Christian, stayed and listened), just the walk-out itself. But that's a distinction without a difference—kinda like when religious conservatives tells their gay friends that they "love the sinner, hate the sin." They're often shocked when their gay friends get upset because, hey, they were making a distinction between the person (lovable!) and the person's actions (not so much!). But gay people feel insulted by "love the sinner, hate the sin" because it is insulting. Likewise, my use of "pansy-assed" was insulting, it was name-calling, and it was wrong. And I apologize for saying it.
As for what I said about the Bible…
A smart Christian friend involved politics writes: "In America today you just can't refer, even tangentially, to someone's religion as 'bullsh*t.' You should apologize for using that word."
I didn't call anyone's religion bullsh*t. I did say that there is bullsh*t—"untrue words or ideas"—in the Bible. That is being spun as an attack on Christianity. Which is bullshhh… which is untrue. I was not attacking the faith in which I was raised. I was attacking the argument that gay people must be discriminated against—and anti-bullying programs that address anti-gay bullying should be blocked (or exceptions should be made for bullying "motivated by faith")—because it says right there in the Bible that being gay is wrong. Yet the same people who make that claim choose to ignore what the Bible has to say about a great deal else. I did not attack Christianity. I attacked hypocrisy. My remarks can only be read as an attack on all Christians if you believe that all Christians are hypocrites. Which I don't believe.
He adds: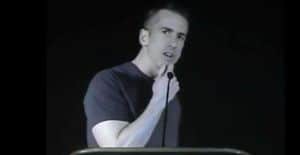 …while those slamming me most loudly for "pansy-assed" may be on the right, they are also in the right. I see their point and, again, I apologize for describing the walk-out as "pansy-assed." But they are wrong when they claim that I "attacked Christianity." There are untrue things in the Bible—and the Koran and the Book of Mormon and every other "sacred" text—and you don't have to take my word for it: just look at all the biblical "shoulds," "shall nots," and "abominations" that religious conservatives already choose to ignore. They know that not everything in the Bible is true.
All Christians read the Bible selectively. Some read it hypocritically—and the hypocrites react very angrily when anyone has the nerve to point that out.