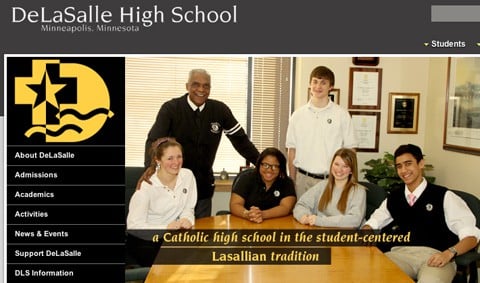 A group of senior students at Minnesota's Catholic DeLaSalle high school, chosen presumably because they are old enough to vote in the November election where an anti-gay marriage amendment will be on the ballot, forced an assembly presentation by the Minneapolis Archdiocese to end after church leaders began spewing their ugly, anti-gay message.
Jon Tevlin at the Star Tribune explains:
"The first three-quarters of the presentation were really good," said Bliss. "They talked about what is marriage and how marriage helps us as a society. Then it started going downhill when they started talking about single parents and adopted kids. They didn't directly say it, but they implied that kids who are adopted or live with single parents are less than kids with two parents of the opposite sex. They implied that a 'normal' family is the best family."
"When they finally got to gay marriage, [students] were really upset," said Bliss. "You could look around the room and feel the anger. My friend who is a lesbian started crying, and people were crying in the bathroom."
Bliss was one of several students who stood up to argue with the representatives from the archdiocese. One girl held up a sign that said, "I love my moms."
After outrage from the students, the Church was forced to end its presentation:
They were so upset that the priest and school officials abruptly ended the assembly. Students who were angry were allowed to stay there and talk with the archdiocese volunteers. It was more civil, for a while, but the more questions the presenters tried to answer, the worse it got.
"It was a really awful ending," said Bliss. "It was anger, anger, anger, and then we were done and they left. This is really a bad idea."
Tevlin: DeLaSalle kids have a few words with archdiocese at marriage talk [star tribune]