Anti-gay activist Chuck Colson, who served as special counsel to President Richard Nixon and served in prison for the Watergate scandal, later focusing his efforts on Evangelical Christianity and forming the Prison Fellowship, which bills itself as "the world's largest outreach to prisoners, ex-prisoners and their families", is in critical condition, CNN reports: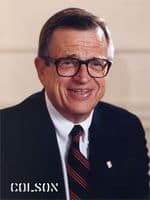 "Colson is listed in critical condition at this point but has shown some early signs of potential for recovery," said a statement Tuesday from the DeMoss Group. A spokeswoman for the PR firm said Wednesday morning that she had no update on Colson's condition.
Colson, 80, fell ill while speaking Friday at a conference outside Washington and "underwent surgery on Saturday morning to remove a pool of clotted blood on the surface of his brain," the statement said.
An example of Colson's anti-gay evangelism, AFTER THE JUMP…