Jarrod Scarbrough and Les Sewell, a New Mexico couple of 18 years, are attending the White House Easter Egg Roll on Monday with their 8-year-old daughter and plan to press the President on signing an executive order banning workplace discrimination against LGBT people, according to a press release from GetEqual and Freedom to Work: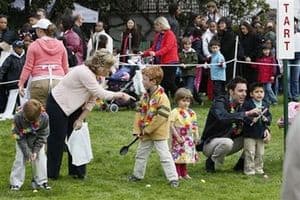 Scarbrough and Sewell are advocating for President Obama to sign an Executive Order banning workplace discrimination by any federal contractor on the basis of sexual orientation or gender identity. Recent reports indicate that this Executive Order has been approved by both the Department of Justice and the Department of Labor, and is simply awaiting the president's signature. The push by Scarbrough and Sewell comes on the heels of a sign-on letter by 72 House Democrats, dated April 2, that calls on President Obama to sign the Executive Order.
"I work for a federal contractor, and there's a piece of paper sitting on President Obama's desk that would give me a little more security for my family," said Jarrod Scarbrough, an employee of United Healthcare. "As so many families gather on the White House lawn next week, I hope that the First Family takes a moment to reflect on how hard gay families like mine work to ensure that we have the stability and security that so many others take for granted. My message — and the message of my family — echoes President Obama's campaign slogan: We can't wait. It's time for President Obama to sign this Executive Order."
The couple is holding a press conference by telephone before heading to the White House on Monday.
In related news, the Mexican American Legal Defense and Educational Fund, or MALDEF, a group known as the "law firm for the Latino community", has become the first non-LGBT civil rights group to announce support for an executive order:
In a letter dated April 5, Thomas Saenz, president of the Mexican American Legal Defense and Educational Fund, or MALDEF, calls on President Obama to take administrative action to prohibit companies that do business with the U.S. government from discriminating on the basis of sexual orientation and gender identity.
"I write to urge you to build on your successful 'We Can't Wait' initiative in one concrete way," Saenz said. "Specifically, MALDEF asks that you sign an executive order to ban federal contractors from engaging in workplace discrimination against lesbian, gay, bisexual and transgender (LGBT) individuals, including LGBT Latinos."
Saenz urges the president to issue the order because the Employment Non-Discrimination Act, legislation that would bar job bias against LGBT people, has stalled in Congress for years.