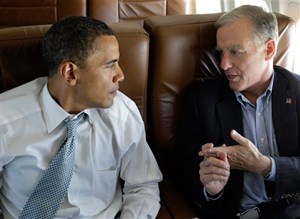 It's looking more and more likely that President Obama is going to have to address the ongoing push to include gay marriage in the Democratic Party's official platform.
After Nancy Pelosi, convention chair Antonio Villaraigosa, nearly two dozen senators and other high-ranking officials have called on the party to embrace marriage equality, there's now word that Howard Dean, Donald Fowler, Steve Grossman and David Wilhelm, all former chairs of the Democratic National Committee, are joining the effort being coordinated by Freedom to Marry.
Their statement, via Politico:
We are proud that the Democratic Party fights for working families, economic justice, and equal opportunity for all.  Times change but our principles must always remain strong. That is why, as former chairs of the Democratic National Committee, we stand with Freedom to Marry, 22 Democratic senators, Leader Nancy Pelosi, and more than 35,000 Americans in urging the Party to include a freedom to marry plank in the platform that is ratified at the Democratic National Convention in Charlotte this September.
Obama, the ball's in your court. How are you going to play it?