Earlier this week, Susan Ungaro, the President of the James Beard Foundation, accepted the "Distinguished Citizen award" from the Boy Scouts of America for her work with the Foundation and its work with students who want to pursue a culinary education.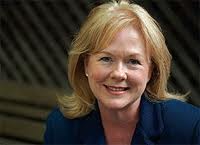 In a piece at the Huffington Post, Michelangelo Signorile made note of the Boy Scouts history of discrimination, the recent incident in which den mother Jennifer Tyrrell was dismissed for being gay, and the fact that the late James Beard, a legendary chef and cookbook writer, was gay and discriminated against:
Often called the father of American cuisine, Beard was a chef and cookbook author who mentored generations of food enthusiasts through much of the 20th century, right up until the time of his in 1985. He was also openly gay in a time when it was almost impossible to be so, writing in his memoir, "by the age of seven I knew I was gay." And Beard experienced the discrimination that Jennifer Tyrrell did at the hands of the Boy Scouts, booted out of Reeds College in his hometown of Portland in 1922 because of his homosexuality.
Signorile asked Ungaro how she could accept an award from the Boy Scouts given this background.
It took just a few hours for Ungaro to do the right thing. She wrote:
While I support all the poverty and hunger-fighting programs of the Boy Scouts of America, including sending at-risk youth to camp, your report brought to my attention that accepting the Distinguished Citizen Award implied I support their anti-gay policy, which I absolutely do not. When I accepted the honor, I was focused on supporting the New Jersey chefs and restaurant community.
I have informed the Boy Scouts of America that I am rescinding my acceptance of the award.