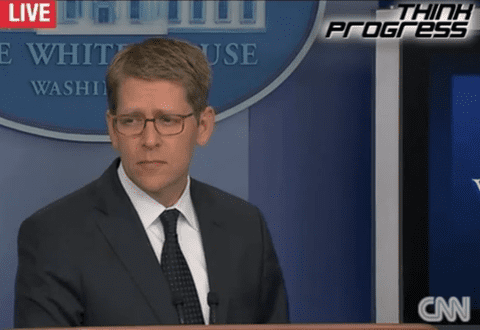 The Washington Blade, NBC News and Metro Weekly piled on today to ask White House Press Secretary Jay Carney why President Obama decided not to sign an executive order prohibiting LGBT discrimination among federal contractors.
Carney's answer? Mr. Obama wants to focus on constructing and passing a comprehensive, nation-spanning Employment Non-Discrimination Act.
Here's part of the nearly 8-minute exchange, via Think Progress:
Q: Can you make the distinction between ENDA and signing this executive order? In other words, if he does support ENDA, why not sign this executive order which relates to a smaller part of the population to get that policy started?

CARNEY: I think the DADT repeal is instructive hear in terms of the approach that we're taking at this time…We're deeply committed to working with partners in the LGBT community on a number of fronts to build the case for employment nondiscrimination policies. […]

Q: Is this a political calculation?

CARNEY: Absolutely not, the president is committed to securing equal rights for LGBT Americans, and that is why he has long supported ENDA….The approach we're taking at this time is try to build support for passage of this legislation, a comprehensive approach, to legislate on the issue of non-discrimination.
ThinkProgress also points out that in addition to incurring the ire of equality activists, the President upset some of his party colleagues. Jeff Merkley, the U.S. Congressman from Oregon, said yesterday that though he's happy to hear Obama supports ENDA, "an executive order would be a very constructive step forward and help build momentum to pass the bill."
"It's disappointing that the White House is passing on an opportunity to make immediate gains for equal opportunity in America," said Merkley.
Watch Carney field reporters' questions, AFTER THE JUMP.