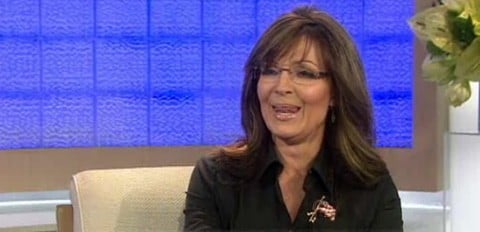 Sarah Palin was interviewed by Matt Lauer in the first part of her appearance on the Today show after making fun of her own idiocy by pretending to read a pile of newspapers.
"A shake-up is still possible," insisted Palin when asked by Lauer if she approved of the choice of Mitt Romney as GOP nominee.
Asked Lauer: "When you were plucked from obscurity in 2008, you didn't have any experience on the national stage, and in this era of intense media scrutiny you took some lumps. You had mixed results, as we all know. Do you think if Mitt Romney is the nominee he should choose someone with more experience on the national battlefield than you had at the time?"
Palin responded by saying any candidate is going to be "clobbered by the lamestream media."
Said Lauer: "You are going to join us for our 8:00 hour, which technically makes you part of the lamestream media."
Watch two clips, AFTER THE JUMP…
Palin first mocked her lack of knowledge by pretending to read newspapers:
The Lauer interview:
Visit msnbc.com for breaking news, world news, and news about the economy