The Liberian group MOGAL (Movement Against Gays in Liberia) has distributed fliers in the capital city of Monrovia containing a "hit list" of gay people and supporters, the AP reports: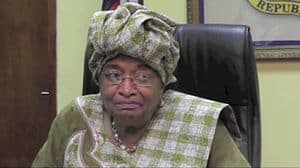 The group said those involved in promoting gay rights "should not be given space to get a gulp of air."
"Having conducted a comprehensive investigation, we are convinced that the below listed individuals are gays or supporters of the club who don't mean well for our country," the fliers read. "Therefore, we have agreed to go after them using all means in life."
No individual members of MOGAL signed the flier. But Moses Tapleh, a 28-year-old resident of the main community where the flier was distributed, said he was affiliated with the group and stressed that its threats should be taken seriously.
"We will get to them one by one," Tapleh said. "They want to spoil our country."
Asked what specific action might be taken against those on the list, he said they could be subjected to "dangerous punishments" including "flogging and death."
Last month, the U.S. State Department expressed concern after remarks made by Liberia's President Ellen Johnson Sirleaf (above) in an interview with The Guardian suggesting she would not sign any laws decriminalizing homosexuality.
Said Sirleaf: "We like ourselves just the way we are…We've got certain traditional values in our society we'd like to preserve."
And Archie Ponpon and Abraham Kamara, two activists with Movement for the Defence of Gays and Lesbians in Liberia (Modegal), have been confronted by angry mobs in recent weeks, causing them to seek safety at the police station. The home of Ponpon's mother was burned down: "He suspects it was an arson attack by people who do not support his stance. 'Since this incident, my mother has been in hiding,' he says."