Liberia's President Ellen Johnson-Sirleaf released a statement on Tuesday clarifying remarks she made in late March in aconverstaion with The Guardian, which the U.S. State Dept. had expressed concern about, Africa Review reports: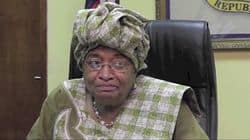 In a statement on Tuesday, President Sirleaf asserted that there were no anti-homosexuality laws in Liberia, even though religious and cultural beliefs condemned "certain sexual practices". But she insisted that she would not condone discrimination against any group, or impose her personal beliefs on the population.
The Liberian President said henceforth, she would allow the democratic process to take its course and let Liberians discuss issues in an atmosphere of freedom.
"I will never condone discrimination against any group,'' she said, adding that she reserved her constitutional right to block what she called "extremist legislation" intended to marginalise a particular group on account of their sexual orientation or practices.
Johnson-Sirleaf had told The Guardian when asked if she would sign a law decriminalizing homosexuality:
"We like ourselves just the way we are…We've got certain traditional values in our society we'd like to preserve."