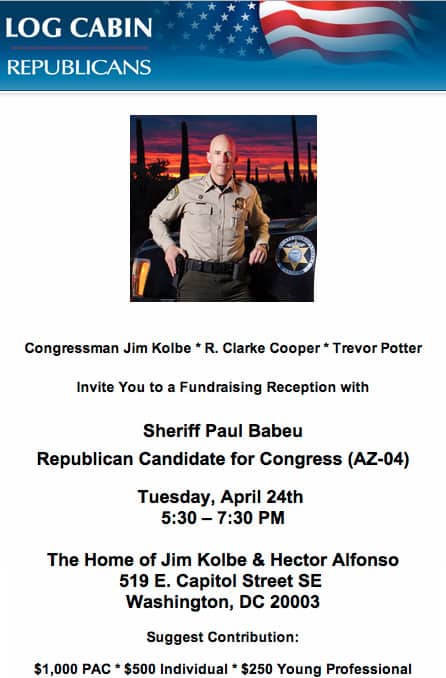 Buzzfeed has obtained an invitation for a Log Cabin D.C. Fundraiser for Pinal County, Arizona Sheriff Paul Babeu hosted by gay former Arizona congressman Jim Kolbe this Tuesday.
Says the invite: "Simply by being who we are – unapologetically pro-gay and unapologetically conservative – Log Cabin Republicans like Sheriff Babeu are helping to secure the freedoms America stands for, and that's something we can all be proud of."
Meanwhile, the Phoenix New Times reports that donations to Babeu's congressional campaign have collapsed since allegations broke in February that Babeu had threatened a former boyfriend with deportation if he revealed they had a romantic relationship.
Contributions to congressional hopeful Pinal County Sheriff Paul Babeu barely trickled in during March, with the once-popular lawman pocketing a mere $6,700 in the wake of multiple scandals that have enveloped him, his agency and his campaign. By comparison, Congressman Paul Gosar, who is also running for a seat in Arizona's Fourth Congressional District, raised $80,000 that same month.
News reports since that time also revealed that Babeu ran The DeSisto School, a Massachusetts boarding school with a history of physical and sexual abuse, such as forcing students to wear sheets, sit facing walls for hours, undergo strip searches and take group showers. Babeu's sister also claimed that she discovered Babeu dating a 17-year-old DeSisto student.
In interviews shortly after the scandal broke, Babeu indicated that he had been in contact with leadership at the Log Cabin Republicans. When asked if he might get involved with LCR by CNN's Wolf Blitzer, Babeu replied, "I'm sure".