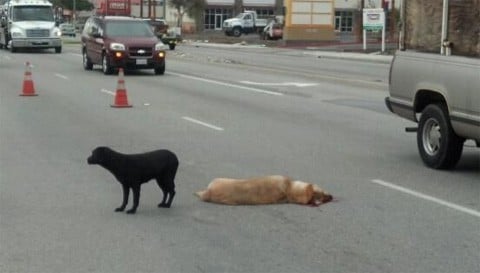 A 2-year-old lab named Grace was rescued by animal control officials in La Puente, California after refusing to leave the side of her struck companion over the weekend:
Animal control officials responded to the scene and took the frightened but unharmed dog to a shelter. Grace had no tag and no microchip implant, and as of Saturday, no one had come forward to claim her, Reyes said. If she remains unclaimed, she may available for adoption as early as Monday, he added.
A clip posted online has caused the dogs' story of loyalty to go viral, making headlines across the country. A line of potential adopters is expected to be long at the shelter Monday.
Watch the clip, AFTER THE JUMP…